paul-walker-and-vin-diesel-on-
yentrog31
Jun 13, 04:30 PM
Hello Guys!!

I posted my 3gs 32GB White IPhone on CRAIGSLIST and sold it to the 1st guy that called me
for $425 ...why are people settling for the Price that Radio Shack is offering ?????

I had over 10 calls in about 15 mins on my way to sell the phone...I am in Miami FL.... G O O D L U C K all !!

BTW ...I feel naked :eek: now w/o my IPhone and cant wait for FeDex to knock on my door on the 24th :D !

congrats..but why would anyone pay 425$ for a 3GS/32 when most can get the iPhone discount for a 4G for 74$ more?..I have 3GS/32 black and Im going to keep mine for a back-up phone/iPod/maybe sell it later/ and I'm getting the $499 discount since I'm not eligible for an upgrade til 3/11...glta
---
Paul-Vincent-Vin-Diesel-
SkyStudios
Apr 25, 04:41 PM
|
paul walker, vin diesel
Apple can create Christmas any day of the year.

Well that's just it; Apple usually relies on two Christmases per year for each of it's major products.

The first is the initial launch and the second is the Christmas shopping season.

The reason for this is two-fold. The first is so supplies are not constrained for an extended period at one time and the second is so Apple can make use of multiple news cycles to get free press.

If the iPhone 5 is launched just before Christmas it would wreak havoc on Apple's ability to supply the market of not only the US, but also the world. Apple usually uses the downtime from late summer to Christmas to shore up production and supplies for Christmas. There just isn't a good basis for this rumor.
---
Vin Diesel Twin rother: Paul
Well only about 1.25bil out of the +6 actually have cell service and I'd suspect only about 300mil in Eurpoe use cell phones (according to internetworldstats.com estimates 291mil in Europe use the internet... I'd assume cell usage is similiar).

And factor in that the US, Canada and many of the other countries with CDMA service are amongst the most wealthy in the world. Those +150mil customers are nothing to sneeze at.


Well now you ignorant yankie ;) Firstly the mobile phone penetration in Europe is about 99% or maybe slighly more. You should really travel a bit to get some perspective.

And secondly, GSM has user base of over 1 billion while CDMA as you said has some 60m users. Which one you think would be more interesting market to cover for a new mobile phone manufacturer? And there is really no question of "we'll see which one wins" because GSM won a long long time ago, hands down.
---
Vin Diesel has a fraternal
I thought looking at my location histories was interesting. I, too, have no delusions that I cannot be tracked (cell phone, credit card purchases, etc.) I wonder if all the paranoids realize that any GPS camera encodes that information in the image. Share that photo online and anyone can get the metadata with location of photograph.

You wanna be connected, you can't be truly anonymous.
You wanna be anonymous, sell you computer, smart phone, cut up credit cards, and move to an undocumented shack in the middle of nowhere with no utilities.

The difference is a question of access. To get at the records kept by your cell phone provider, you need a subpoena. Any roommate/guest/thief/stalker with access to your computer or iPhone can get the data off your iphone or the backup as it exists right now. I don't mind the former, but I want to do everything I can to prevent the latter.
---
Vin+diesel+paul+vincent
ClimbingTheLog
Jul 20, 12:56 PM
Anyone else think this is getting out of hand? Two cores, great improvement. Four cores, ehh it's faster but Joe can't tell. Eight cores, now thats just stupid.
Let me guess it will only come with 512mb of Ram :p (ok it will be at least a GB).

Have you ever owned a machine that hasn't been CPU bound? I know I haven't.

you need to do your math better, extra core = 1.5x - 1.8x speed increase. but still the same power usage as a normal core!

Where do you get these magical free electrons to drive the second core? That's some fancy silicon that uses 0W.

eight cores + Tiger = Octopussy?!?

Even Apple isn't that cool. Alas, I fear "Mac Pro 8x3.2"

How fast do you want mail to go? The main reasons you need good processors is not for browsing, e-mail, text, and such and such. I highly doubt someone who does all these things on a five year old computer will be much slower than someone on a 16 GB RAM top of the line Powermac

Have you ever done a search on a large volume of mail with AppleMail? That can eat my CPU for hours on a large IMAP mailstore on a 1.5 year old Mac. How about using Firefox with a number of useful extensions? CPU pegged for minutes when loading up the day's news stories from my RSS reader, and that's with a 2-year old Mac.

Bring the speed.
---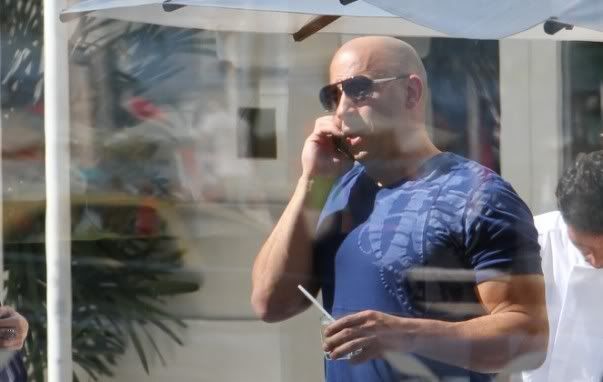 Vin Diesel and Paul Walker
so lemee guess these new lappies are gonna start at 1999$??
---
Vin Diesel has a fraternal
Actually, the merom in not completely compatible with the yonah chips. There will have to be some redesign on Apple's part that is supposed to delay the new MBPs. This article somewhat explains it:

http://blogs.zdnet.com/Apple/?p=249

I don't know that I buy that, especially considering they have no source, and people have already done merom swaps on shipping machines. If there is an issue, I'd guess it's only an issue in the soldered version.

As far as the 2nd optical slot goes, don't you think it's a pain to have only a single drive?

And especially when a second one probably adds less than $50-$75 to the system cost to the customer? (And extra profit potential for Apple?)

Not really. My last machine had two, and I rarely used both. I think most people in the market for two optical drives are probably going to want the full pro tower anyway, and there's not that much profit from the second slot since most people will add the drive themselves instead of from Apple.

MS will announce that they are dropping Mac development

But didn't MS sign a multiyear contract with apple committing to support?

I'm not sure why you're saying this price is way too low. The specs, so far as I can see, are quite similar to the current bottom-end iMac, which has an integrated screen, and it's price is only $300 more. It seems to me that this price is actually about right.

Also, I think that the name 'Mac' is a distinct possibility. Not saying I like it (or that I don't), or that it isn't simplistic, but I think that it's not unreasonable. FWIW, 'Mac Express' is nice, too, but I don't see Apple jumping on a name like that as quickly.

Maybe not way too low, but a bit low, especially when you compare specs to the $799 mini. The problem with MAC by itself as a name is that people will ask "what kind of mac" and the response is "Mac". It's a bad slapstick routine. It's like Ford selling a car called the Ford.
---
Paul Vincent Vin Diesel
deputy_doofy
Mar 31, 04:06 PM
And the Apple haters do yet another 180...

1. Macs

1995 to 2007: Don't use a Mac. Noone uses Macs.
2007 to Present: Don't use a Mac. Everyone uses a Mac.

2. Apps

1995 to 2/22/2011: Don't use Apple. There is no software and they can't do anything.
2/22 to Present: Apps? Who needs Apps as long as you have a robust UI?

3. Open

2007 to Today: Apple is a walled garden that only stupid lemmings use.
Today going forward: Controlling the OS is necessary and good for the consumer.

Honestly... this just needs repeating to drive the point home. Well said and 100000% accurate.
---
vin diesel twin rother pics.
I think is quite conceivable that keeping those logs forever, not encrypting them, maintaining them despite an opt out, and not removing the timestamps was done in the spirit of: "Let's keep the data, maybe they will be useful at some point, and why bother do encrypt them, that is just some extra lines of code to write."
And it is this spirit which is somehow worrying.

This is the most likely explanation for me (too).
---
diesel s rother cars paul
Scottsdale
Apr 6, 11:38 AM
clock speed is not everything... a 1.4ghz sb processor will kill anything you are doing with a 2.4ghz c2d. There are many other factors in a processor than just clock speed so i wouldn't be worried. There is no doubt that the sb will be a much faster processor than the ancient c2d.

Also, I would say 50% less graphics is a bit of a stretch. Haven't personally ran any benchmarks but was reading a thread the other day and in the benchmarks and graphics they were showing that the 320m averages about 5-10 extra fps over the 3000.

here is a thread you can look at and compare for yourself.

http://forums.macrumors.com/showthread.php?t=1103257

Sure the integrated graphics are going to be slightly worse, but at least you will have a nice new processor. Can't always have your cake and eat it too, especially in an ultraportable.

When the mba was refreshed everyone was complaining about the outdated processor, now rumors of a processor upgrade and people bitch about the integrated graphics. Guess you can't please everyone but jesus, sometimes it just seems like people find anything they can to complain about.

Here's a simple solution for all of you, if you want the "slightly" better graphics go buy a macbook air right now, it's not like apple has stopped selling them. If you'd rather have a sandy bridge processor, wait it out. Seems simple but i guess that's just me?!?!?!:eek:

Sure clock speed isn't everything. But you better go read up some more on Tue Intel HD3000 IGP. You're using facts from the STD voltage SB IGP and applying them to the ULV SB IGP. Go read about the graphics on the Samsung Series 9 laptops. The 13" model uses this very chip cited. It shows greater than a 50% drop in graphics performance from the 320m to ULV IGP used in SB.

This has been the problem all along with everyone. They're attributing facts that are actually fallacies to this Intel IGP.
---
vin diesel brother,
http://www.macrumors.com/images/macrumorsthreadlogo.gif (http://www.macrumors.com)

Reuters reports (http://today.reuters.com/news/articlenews.aspx?type=technologyNews&storyID=2006-11-28T213349Z_01_N28267036_RTRUKOC_0_US-MEDIA-SUMMIT-UNIVERSALMUSIC-IPOD.xml&WTmodLoc=TechNewsHome_C2_technologyNews-1) that Universal Music Group Chief Executive said on Tuesday that they may seek a royalty from Apple for iPod sales:



Universal made news earlier this month (http://www.macrumors.com/pages/2006/11/20061109124909.shtml) when it was reported that Microsoft had agreed to pay Universal Music a fee for every new Zune Music Player sold. Music studios, of course, currently get a cut from every song sold, but do not get any percentage of iPod sales.

Perhaps the pencil makers should demand a payment from the pen makers... and if you have a pen and paper you must be copying documents so paper producers should pay book dealers... I could live never buying another Universal song on iTunes... thank you very much Bill Gates... his check to Universal is what may be $900. for all Zunes sold... what a joke...
---
Vin+diesel+paul+vincent
cbronfman
Apr 11, 06:35 PM
I'm with the other 3GS posters who hoped to be able to upgrade in June when our phones will be 2 years old (and showing their age for a tech product). I can wait until September (well, I'll have to as I don't want an iP4 which will be a year old by then). If something goes awry with my 3GS I'll have a problem as I don't want to be locked into a contract with AT&T buying a iP4 a year after it was released, and my iPhone 2G (original) has no GPS so some of the functionality I rely on will be gone). Maybe I'll schedule a genius bar check-up for my 3GS before my Apple Care expires. I don't expect LTE although it woudl be nice. I do hope for 3G+, dual core processor, improved antenna (although the signal strength on the IP4 is much stronger than on the 3GS) and thinner would be nice. I'd also really like it to be like the iPad2 with the GSM version able to work on other GSM networks by a quick change in SIM card and not locked to AT&T for those that travel a lot abroad or to Canada.
---
You#39;ll remember Paul from his
BlondeBuddhist
Jun 10, 12:37 PM
When I talked to the rep at The Shack 2 days ago he told me to keep checking back for what time they'll be open on launch day. He said there is a good chance I'll know when I pre-orer the 15th.

As far as how many non pre-order phones they plan to have, he told me they will likely have as many stock phones as they get pre-ordered. Doesn't apply to those pre-ordering as much as those hitting up RS for shorter lines that didn't pre-order.

I wonder if they will allow me to pay in full on the 15th as oppose to the $50 down payment. Either way I hope this helps Radio Shack out. I have been treated 100X better by the staff there compared to Best Buy OR AT&T. Plus they're prices seem better. When I was there asking about the pre-orders I purchased a car charger/cord to plug my ipod in to the glove box that runs thru the deck for only $37 with tax.

Blonde Buddhist
---
Paul Vincent Vin Diesel
NY Guitarist
Apr 5, 07:23 PM
I hope the next release of FCS integrates the different apps within the suite under a single UI.

The whole "Send to" export concept always seemed like an awkward workaround for using this package as a "suite".

As sad as it was to see Apple kill off Shake, my hope is that it will be reborn inside FC as the node based compositor portion of the package. Motion inherited some of Shake's features, notably SmoothCam, so hopefully more of Shake will live on in FCP.

I'd really like to see FCS become of a single app where the "suite" of apps becomes more of a "mode" of operating. In other words if you choose to do editing the UI can switch to a mode that focuses on that, as with compositing, titles (LiveType) or audio editing (Soundtrack).. and so on.
---
Paul Vincent Vin Diesel
I'm glad rosetta is going away. Maybe the dev will finally update the app.

The dev is dead, too old to program anymore, or has long ago moved on to other companies and hobbies, etc. Maybe the source code depends on the PowerPlant framework, or is on a floppy disk that the dog chewed up. But thousands of Mac users still like using the old application a lot better than any of the new cr*plets.

Maybe you'll volunteer to rewrite a new app as good or better, in every regard, for free?
---
Paul Vincent Vin Diesel
Before thinking about Apple competing with Sun in the Server market check out Sun's recently released x86 server products. They are very impressive and much higher up the "food chain" than what Apple is expected to compete in.

Sun Fire X4600 (http://www.sun.com/servers/x64/x4600/). It has 8 sockets with support for up to 16 Opteron cores today and 32 Q1 next year. It is designed to be easily upgradable - processors are on separate cards connected via HyperTransport backplane.

Sun Fire X4500 (http://www.sun.com/servers/x64/x4500/). A "hybrid" server (code name "Thumper") with 28TB directly attached storage and 2 Opteron Sockets (4 cores) in a 4U packaging. The storage density is at least 4 times traditional NAS/SAN - you can have a quarter Peta Byte on a 42U rack!!

Sun Blade 8000 (http://www.sun.com/servers/blades/8000/). A 19U chassis supporting 10 8-way (now, 16-way Q1 2007) blades. This platform will also support Sun's Ultrasparc T1 (8 cores, 32 threads) and the upcoming UltraSparc T2 (8 cores, 64 threads) processors.
---
Paul Vincent Vin Diesel Brother Images: Vin Bio
and if you guys have old powermac g5 dualcore sitting around because you got a new mac pro. i'll help you dispose of it no problem. i'll even do it for free. ;)

hey bokdol, you and i can start a business and help all the intel mac pro users dispose of their old G5 power macs

we can go into business :)
---
Ofexplosiv ethe vin diesel apr
Some people do things called graphic design and video editing for a living. Sometimes, when you want to make money and put food on the table, you want top of the line equipment.:rolleyes:

I guess you missed that he was responding to someone talking about gaming? Less eye rolling, more paying attention.

To make more money faster.Yes. I agree totally. If you are making your living with your Mac doing graphics and video work, every minute saved is another minute you can take on another client or meet a perviously impossible deadline. So in that case the extra $850 is made up in a matter of a few weeks or months at worst. Totally understandable when time is money for the Mac professional. :)

Ditto.
---
Sign me up for this please!!!
---
ricgnzlzcr
Aug 15, 12:30 PM
Wow, I'm really surprised by those photoshop tests. When those go universal I'm sure my jaw will drop
---
As an Apple fanboy, I'm disappointed to post this, but Android will continue to win despite the huge fragmentation problem.

Unlike Windoze based computers, cell phone users expect to replace their phones minimally every two years. So for the most part these users just don't care whether the manufacturers bother to upgrade the OS or whether the few apps they've found need to be repurchased.

When they go shopping and see a brand new Android phone running a better OS with more apps than they had before, they will simply buy it. Especially since there will continue to be two for one offers and lots of competition.

Like Apple computers, iPhones will be superbly engineered, but that hasn't mattered in the computer arena and it won't matter in the cell phone arena.

BTW, I expect Apple to eventually command 20% of the world's computer, cell phone, and tablet market with 50% (or more) of the profits, so it's not like Apple won't be successful. It's like combining all of the luxury cars together under one manufacturer.


I disagree because Smartphones have become essentially computers for people, and people much more than ever want to maintain their existence when they upgrade or move on. With the iPhone this is simply easy to just get a new model of iphone and continue on. Crossing from one manufacturer of android to another with a new OS and everything else, I can't believe it is anywhere near as seamless or effortless.

I think mostly what we are seeing in the marketplace now is the android is for people who can't afford an iPhone. Other people mentioned the two for one deals and other things. It is just a marketplace where android based phones are more affordable and accessible to people who don't have as much to spend on a smartphone.

The whole android handset is crazy. Manufacturers make up new models every 3 weeks, Google renames each version of the Android operating system with some silly name... There is no cohesion or continuity in that at all. I think consumers look more for that than ever.

Android has barely been out long enough for most of the normal consumers to be on an upgrade path already and to have to cycle into a new device. Time will tell.

I think people will see a new android handset (although aqain it is confusing with 25 different makers), and expect to be able to just take it home and upgrade it.. But is that how it happens? Because it is like 2 clicks for an iPhone.
---
vendettabass
Aug 12, 07:26 AM
fake obviously but it seems like a nice possibility....

http://www.youtube.com/watch?v=-5qGn7kIkMA

that'd be insane!!!

how about this... http://www.youtube.com/watch?v=PWn9bz7mjvY
---
actually when i was in india i read an article saying the center was shut down because the employees were demanding higher wages or something like that.
---