IMG_3955 Megan Fox
fivepoint
Mar 23, 02:20 PM
Again, Fivepoint, you forget that the President was selling the Iraq war with suspicious and weak information that the many questioned. It turns out they were right. Pre-war, the big issue was whether the war was justified based on the evidence being pushed by the President. The criticism President Bush faced thereafter had a lot to do with the fact that he lied to the American people in order to start a poorly planned war. They bungled every aspect of a war they lied to get us into. There were plenty of reasons to be critical.

"Lying" implies intent. Are you accusing them of lying, or getting it wrong?
Yes, there were many reasons to be critical.
Is it your position that Libya represents a larger danger to American assets/security than Iraq? If not, is it your suggestion that America should be involved in every humanitarian crisis with brutal dictators worldwide, or at least those comparable to Libya? If so, why aren't we in North Korea? Why aren't we in any number of African nations?



Out of curiousity, what do you expect? I expect conservative congressmen and women to support a conservative president, but to think for themselves, and do what they independently think is right. I don't respect blind support like what they did under GWB. Similarly, I expect liberal congressmen and women to support a liberal president, but to also think for themselves, and do what they independently think is right. Some are speaking out, and some are not blindly supporting President Obama. Can you acknowledge that the liberals are doing a better job with consistency than the GOP? If not, how do you explain GOP opposition to the Libya action?

Part of what you say is true, in that I should EXPECT people to be more critical of the other side. This is true. But I also think it's important (especially in this forum) to point out hypocrisy stemming from the left so that the Macrumors Echo Chamber doesn't keep you all in denial. What I personally expect is people to stand on principles, and not on parties. What I expect is that people live their lives in a honorable way and present a consistent philosophy. This is the same reason I rip on neo-con Republicans for talking about fiscal conservatism when history has shown us that their real world actions when in power are very different from their rhetoric... even if they still aren't as bad as the Democrats... it's not good enough. Both parties are bad at it, too many people simply tow the party line and don't think for themselves.




It sure is easy to peg me isn't it? Too bad if you go back over my posts you will find more than enough denouncing involvement in Iraq / Afghanistan.

It's much easier than actually addressing your real views... it's a defense mechanism which she uses to avoid serious debate.




If you are supporting non-intervention, than I disagree. I support the notion that the UN (using member-nations' pooled military or civilian assets) should be able to intervene in a nation's affairs if it is thought necessary to either 1) protect other nations from harm or 2) protect a nation's own people from its government, or in the case of a civil war, one or more factions.

Being a 'non-interventionist' does not mean that you NEVER support war, it means that you avoid it whenever possible. It means that you are far less prone to military intervention than someone who does not care about the values of non-interventionism.

http://en.wikipedia.org/wiki/Non-interventionism
Nonintervention or non-interventionism is a foreign policy which holds that political rulers should avoid alliances with other nations, but still retain diplomacy, and avoid all wars not related to direct territorial self-defense.
---
Megan+fox+transformers+2+
gnasher729
Jul 27, 10:07 AM
So since these new mobile chips are pin-compatible with the Yonah chips (like the one in my MBP), will it be easy/possible to simply buy one and upgrade myself?

With things like this, my rule is: If you have to ask, then you can't do it :-(

At the very least, you have to open your MacBook, get access to the processor, remove it, put in a new ones. But laptops are not built to be opened, and the processor is most definitely not intented to be swapped, so you might have to take an awful lot of things apart. Now taking it apart is the easy part, putting all the things back together again with everything fitting and nothing left over, that is the more difficult part.

It is one thing to try these things with a cheap MacMini, especially if your goal is not to have a faster MacMini, but an impressive webpage. Risking a $2000 MacBook Pro is quite another thing. Better to sell your MacBook/MacBook Pro on eBay and buy a new one.
---
Megan+fox+transformers+2+
What would you suggest as an alternative to "successor" to describe these future chips?

The normally accepted definition of successor is one who replaces the one that came before it (as in succession).

The normally accepted definition of "next generation" in this field implies a new architecture (aka Core 2 to Core 3, or G4 to G5).

Kentfield and Clovertown are simply a different packaging of the Conroe and Woodcrest... putting multiple Conroe or Woodcrest chips into a multiple-chip module (MCM).

Not trying to quibble just make sure folks don't read things incorrectly.
---
Megan Fox AND Shia LaBeouf
wiestlingjr
Jun 11, 06:03 PM
Bibbz

I just talked to my local radioshack and they are also taking preorders. He told me he can't guarantee me the 24th. He said he's not sure when they will come in. How accurate is this? I really don't want to preorder if its not going to be there on the 24th.
---
megan-fox-transformers--
SuperSnake2012
Aug 5, 11:42 PM
Here, let me show you the art and science of rumoring (http://www.misterbg.org/AppleProductCycle/), Apple-style.
The funny thing is that the website is almost spot on with everything. :D
---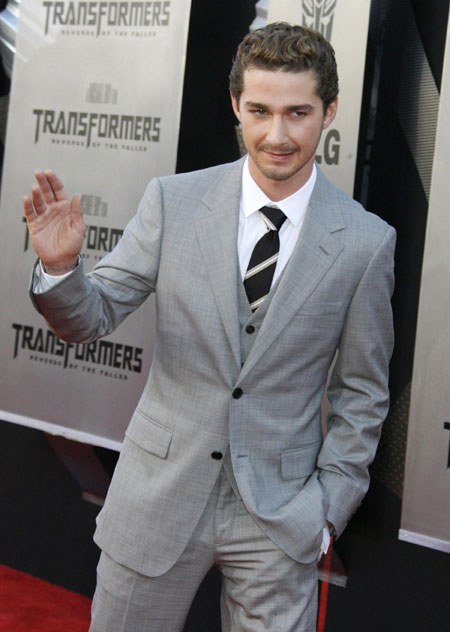 Megan Fox attends German
I might not expect IPS, doesn't it draw more power than TN LCDs?

I don't think you'll see IPS screens in MacBook Pro's or Air in the future.
Apple is working on the mass market now and mass market don't care about quality of the screens specially on the portables.
If you need colors and better screen then Apple will sale you "****ing glossy amazing" 27" display. :)
---
In this photo: Megan Fox
Multimedia
Aug 18, 08:29 PM
I purchased Kingston PC2 5300 FB for my Mac Pro from New Egg. They seemed to have the best price and some Mac friendly reviews.

My Pro now starts 10.4.7 in less than 5 seconds!Great Caesar's Ghost! :eek: From OFF? :eek: With total 3GB RAM? You have a QT Movie you can post of that? :eek:
---
Is that Transformers tattoo on
A bit pointless given that no software utilises the extra cores yet. But nice to know, I guess.

I'm still getting used to having two cores in my laptop!

Why do people think the computing world always revolves around them? Extra cores WILL be recognized by most 3d applications and will speed up rendering. There are many other applications for multiple core use that don't include web browseing or writing email to your grandma.

peace
---
Megan Fox in a ponytail
thibaulthalpern
Mar 31, 10:14 PM
Probably what bothers me the most about the discourse that Android is open is the underlying logic that is an implicit (or perhaps really explicit, depending on who is touting that discourse) assumption that it is democratic, liberal, progressive, and for "the people" and thus prevents a "draconian future" from happening because instead of letting corporations dictate our digital worlds, the people will a) have a say in it and b) have a choice.

Baloney!

This discourse makes a false link between software being open source and political ideology. The two are not necessarily corresponding. And furthermore, that Android is actually open source is highly debatable but I won't go there.

Why do so many technophiles fall for the discourse that open means choice means freedom mean democracy discourse? It's all BALONEY! Google isn't really interested in protecting your freedom, democracy etc.. It's really interested in surviving and making money. Let's try not to fall AGAIN for that political cover.

In this case, I find Apple much more honest. They don't talk about political ideologies like freedom, democracy etc. All they say is they want to make devices that are friendly and easy to use. They don't couch their products in political ideological terms.
---
megan fox transformers 2 bike.
Backup15andpunt
Nov 29, 01:34 AM
Here an idea. Have Apple buy Universal. Then Microsoft and pay Apple for every Zune it sells. Of course the government might frown on this kind of purchase.
---
megan fox transformers 1
Damn PowerPC fans.

Apple is INTEL now. We Love Intel Because Stevie Tells Us So.
We hate AMD and IBM. Should Apple ever move to another CPU provider, we will seamlessly transition to hating Intel again. This is the Way of the Mac.

What's so good about G5's anyway? They are slow, too hot, and skull juice.
Why do we love Intel? Because Steve says to, and Core 2 Duo is powerful, cool, not permanently drunk, allows us to run Windows and helps Apple increase its market share.

We love ATi because just like Intel, their products are the best at the moment. We still love nVIDIA because their GPUs are in the Mac Pro.

We love Israel because they make our Core 2 Duos and we love China because they make our Macs. We love California because that's where Our Lord Stevie J is (Don't particularly care about the rest of the US, sorry guys).

We love our Big Cats because they run so fast and look so clean and powerful (Hmmm... Mystery of OS codenames revealed?) and of course because they are not Windows, which are susceptible to breaking...

People who live in Windows shouldn't throw Viruses?

Off track...

Anyway, Rawr to all you PowerPC fanboys (And girls)

Intel 4EVER!

I know this is just a joke, but even so it's stupid, because the implication is that the only reason anyone here might like the chips Intel is coming out with is because they have been brainwashed into liking them now that Apple uses them (i.e. if Apple was still using PowerPC chips, or had switched to AMD, we would all be sitting here talking about how crappy the Core 2 Duo chips are).

I'm sure there are some people like that, but it is insulting to plenty of people here who actually do know something about the various chips that Intel and AMD make and base their opinions on them just on their actual merits and weaknesses.

-Zadillo
---
megan-fox-transformers--
no worries bro, hope i could help! :)

WOW Awesome Thank you so much for the info and the fast response.

I like employees that are on message boards like this and respond to questions like these and taking the time out of their day. Thanks.

So just to make sure. If I do go along with the Trade In on Tuesday I don't have to give them my phone then? when I go back to pick it up then they will take it?

Thanks
---
Fox. Megan Fox Shia
steadysignal
Apr 11, 12:22 PM
Wirelessly posted (Mozilla/5.0 (iPhone; U; CPU iPhone OS 4_2_1 like Mac OS X; en-us) AppleWebKit/533.17.9 (KHTML, like Gecko) Version/5.0.2 Mobile/8C148 Safari/6533.18.5)

I dont want to wait :(

who does? but it will be worth it...
---
In this photo: Megan Fox
---
megan fox images for myspace
and the "One More Thing..." will be -

Leopard print iPod Socks!

Some new iPod sock colors-black, leopard print.
Nano tubes-update with new colors, add full-size version for 5th gen iPod
Nike-introduce 5th gen kit.
---
megan fox transformers 3
Looks like they are going for another Snow Leopard (aka disappointingly small) release.

Not sure about what everyone else wants out of the OS, but I certainly don't want ANY of the iOS style features they have announced. I can see launchpad becoming another unused feature (I'm looking at you dashboard!) that people forget about.

I guess we'll know just how committed Apple are to the Mac after this. We already know they couldn't give a damn about the hardware side of the business any more. The final stab in the back would be XCode for windows.

I really do fear that within 3-5 years Apple will have a tiny mac lineup with all focus on iOS. No more yearly OS updates, no more updates to iLife, etc. They make peanuts from it compared to the iOS income.
---
megan fox transformers 2
SandboxGeneral
Apr 11, 11:25 AM
Well that would fit nicely into the convergence of the ATT & VZW product launching at the same time, rather than two different phones and launch dates.
---
megan fox transformers 2
I'm making the plunge and buying a real wheel.

Probably the DFGT
---
megan fox transformers 2
I think that the bigger issue with Dan=='s design (full credit and kudos for the idea!) is that the Mac Mini is so small that it only uses laptop components. If you want to have a full-size optical drive or a full-size hard drive, you need to use a larger form factor. This is part of the reason for the size of my design.

Here's a comparison in sizes (I've also changed the floor because my wife thought that the reflection was confusing...)

http://www.ghwphoto.com/3MacsFrontSm.png

http://www.ghwphoto.com/3MacsBackSm.png

Cheers!
Now you've got some skills. I especially like the shadowing, reflections and detail on the back side. Very nice.

I agree with your size assessment.

Actually, our designs are quite close, differing primarily in cosmetics. What I'm refering to is my earlier design, (which I suspect you missed) not boncellis'. boncellis wished to see a wider, flatter version for use in home entertainment, so I conjured that 2nd one up for visualization. While that form factor has grown on me somewhat, I still like the taller version, as I had done earlier, and you've shown here, as well.

Here's my initial design, from earlier in this thread.
http://img92.imageshack.us/img92/9648/macandmacminipx9.jpg
The size of mine is a little smaller (narrower) - I wanted the whole thing less than 8" wide, though it could go back a little deeper, i.e. not necessarily square.

Also, see possible/hoped for product specs earlier in the thread.

Personally, I think I still prefer the smoother Mini-like skin than the perforated look of the Pro, but I'm just quibbling.

Thanks for the imagery.

-Dan
---
I think that these tests are poor regardless of the results. Testing is all based on evidence and I see none, just what they say are the results.
When you run a test you normally document the process for the test conditions. You don't just say Photoshop CS2 - MP aware actions, but which ones - why didn't they use the Photoshop test.
"For FCP 5, we rendered a 20 second HD clip we had imported and dropped into a sequence."
Does this mean they imported a 20 second clip into a sequence and had to render the clip before it would play with the rest of the sequence.
They basically used the render tools in the sequence menu. Why measure something like that.
Bleubird2
Apr 27, 08:50 AM
Its not about being a criminal or paranoid. This data is for the sole purpose of marketers to sell us crap.

Well, I'm tired of seeing ads everywhere I turn. You can't go to the bathroom now without seeing a ad shoved in your face and its becoming tiresome.

It reminds me of a line from Futurama:

Leela: Didn't you have ads in the 21st century?"

Fry: Well sure, but not in our dreams. Only on TV and radio, and in magazines, and movies, and at ball games... and on buses and milk cartons and t-shirts, and bananas and written on the sky. But not in dreams, no siree.

Well, Fry could have added our iPads and our phones too. Its disgusting already how much advertising has infiltrated our lives. You can't even read a news story on the internet without an ad being being intrusively shoved in your face.

I'm old-fashined I guess because I have no interest in having a smartphone in the first place. I just have a standard flip-phone. By owning a smartphone, you are always going to be faced with privacy issues because if you are using facebook/twitter and whatever else you are using to broadcasting your information. If you don't want advertisers to use your information, stop using social networking sites and search engines and stop being connected.
---
jonharris200
Aug 7, 03:42 PM
I can exclusively reveal that the top top secret feature of Leopard will be... inbuilt photocopying! :D
---
I am shocked that anyone finds this as a positive.

So you all want a drop from 1.86/2.13 to 1.4GHz CPUs in your 13" MBA? That is a 30% drop.

Then you want another drop of approaching 50% in graphics performance? Remember these IGPs clock in much lower than the STD voltage SB used in 13" MBP.

I find this completely backwards from Apple's current position on both CPU and graphics, and I don't think anyone would end up with a faster or better 13" MBA than the current generation. Apple would certainly have to bring back the backlit keyboard and introduce Thunderbolt to sucker anyone into buying such inferior junk! I would recommend people buy the current generation on clearance rather than lose performance everywhere like this. If this is the chip Apple uses in the 13" MBA, prepare for a big drop in capabilities!

I am still in shock anyone finds this a positive? Have you all read the clock speed? The facts about the chip and IGP in ultra low voltage variants?

agreed completely.
---
MrCrowbar
Jul 20, 06:16 PM
Nobody will ever want to use an Xserve on their desktop, and nobody setting up a compute cluster will want to build it from desktop boxes.

Hehe, I remember Virginia Tech having built the 3rd fastest supercomputer out of 1100 dual powermacs G5. Back then, the XServe G5 wasn't available. You can see that in the MWSF 2004 keynote (minute 25 ff). They later switched to the Xserve G5 when those came out. It had 10.28 TF for just $5.2M.
---