Afrojack#39;s opening set at EDC.
I know for a fact that the design college I go to just placed an order for MANY MANY MBP 17". Apple knows that students and schools need computers before school starts, and getting rid of some "old" products before you release your new ones, is a pretty good idea if you ask me.
---
EDC 2011 Vegas Tickets Are
Nobody's using Blu-Ray, in my experience. It's just another way of sucking money out of home consumers. Everything's done online in terms of delivery...

A very ignorant post. Especially if you value quality. I hardly call providing the best quality video "sucking money out of home consumers"

Or are you one of those that want to insist that streaming "hd" video is just as good as blu-ray. Because if you are - you shouldn't have even weighed in here.

No need to school you on the difference here though unless you come back and tell me you still think there's no difference.
---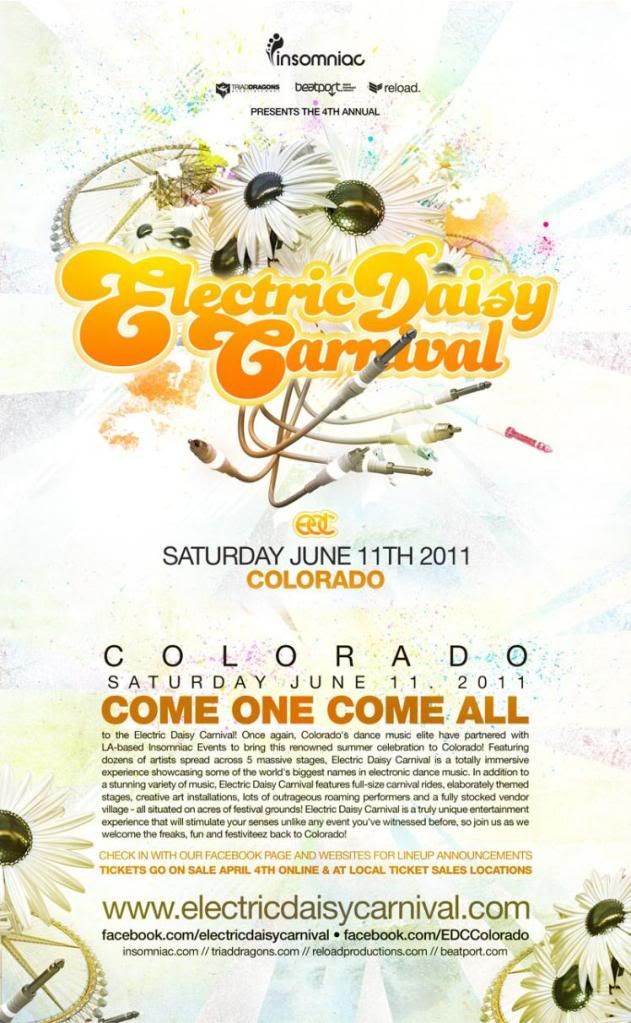 edc 2011 colorado denver
I used to work at radioshack too and the resources there suck. Activation will take longer than usual and they can mess up your account/credit. I hated activating phones cause it was a hassle since we were not connected directly with carriers.

Now for Radioshack. Brother-in-Law goes and his credit gets run twice by child who works at Radioshack and signs him up to expensive plan. So they have to call their 3rd party service provider and the manager there and employee make a big mess of his ATT account and turns out the phone they had was from a customer return, not even brand new. He ends up just getting bad credit after 4 hrs in the stuffy dusty shack. We go to apple next week, now he has to put deposit cause his credit was messed up but guess what? thats right apple waived it as they saw the mistake and he gets a brand new phone. :) Radioshack = worse place to get any phone Apple = smart well trained employees

I just talked about these cases closest to me but I'll tell you those Radioshack employees are the worst to buy any cellphone from. you take a risk with your credit, used phone possibly, long activations, and bad locale.

Just wanted to say that generally when people have these types of experiences, they are at RadioShack franchises and not company-run (corporate) stores. I have worked at both in the past, and though it's been about 6 years, I can say that things were definitely very different.

Franchise stores, at the time, did indeed work through 3rd party processors for cell phones so it was easier to mess things up. However, it was all through a web interface so more often than not the problems stemmed from the interface crashing or it not being up to date with the latest promotions, etc, than actual user error.

Corporate stores also ran through a web interface but it was directly through the carrier so it was much more reliable.

The bigger problem with cell phones at RadioShack was consistency. The sales flyers would always talk about this deal or that deal, and oftentimes that deal wasn't even offered to franchise stores.

I think a bit of this has been resolved, and I wouldn't mind getting a phone through RadioShack nowadays if there was a good promotion.

However, as someone else said, RadioShack prices on most other things are ridiculously high. I felt terrible when I saw a guy at our store sell this old man a 30-ft HDMI cable for $300. Not kidding at all. I don't know how they stay in business, their prices on most things are not competitive at all.

sw
---
Relive EDC Dallas 2010 Monday,
dethmaShine
Apr 12, 03:11 PM
3am.

Thanks.

And that's not good.
---
Electric Daisy Carnival EDC
Apple Q3/09: 7 million devices and 17.1% marketshare
Apple Q3/10: 13.4 million devices (almost doubled!) but 16.7% marketshare.
Nokia Q3/09: 18 million devices and 44% marketshare
Nokia Q3/10: 29 million devices (+ 11 million!) but only 36% marketshare

So Apple sold 6.5 million more units but lost 0.4% marketshare.

Ya, right.

The iPhone is both gaining and losing market share, depending on what you mean by market share.

Do you mean what percentage of devices sold or what percentage of devices in use?

By the first measure, iPhone is slightly losing (by an amount that almost seems like it could be a statistical fluke -- it's basically flat) market share. By the other, it's still gaining market share (again by a pretty small amount).

And then, you get into comparing statistical reports from different sources. Lie, damned lies, and statistics, you know.

About the only certainty is it's debatable whether the iPhone is really losing market share and beyond that, whether Android is growing at the expense of the iPhone.
---
EDC has MOVED: Las Vegas
mmmcheese
Aug 11, 02:32 PM
Although I'd be interested in an Apple created phone (depending on what it turned out to be), I doubt they will come out with a CDMA version....so in the end I'll be SOL anyway...
---
EDC 2010!
---
EDC.
My biggest complaint about the game is that it's atmosphere and presentation are just absolutely sterile.

With the exception of car models the graphics don't approach what we see in other console racers. NFSL Shift makes it look like a PS2 game when it comes to detail, but GT5 makes a huge comeback and almost breaks dead even since it runs at 60fps. I went back and played Shift the other day and it was so choppy I almost couldn't play it.

The sound is also disappointing. Except for the car engines (to the guy that said they all sound the same, stop putting the same muffler and tranny on every car, it covers up their distinct sound) everything else is canned a tinny. When I go off track I hardly get any indication on sound. Go off track on Shift and you can hear pebbles, gravel, and dirt grinding under your car and banging around on the sides. Shift snarls, roars, rumbles and get's you excited to be out there and racing with other cars. GT5 is like driving miss daisy. The AI follows a single line, there is no off road sound, hardly any rumble on the gamepad, and it doesn't do a lot to put you in the game.

But GT5 makes up for a lot just by how the cars feel when they drive. Every single car is different and you can tell instantly. It drives so well I had to go get a Driving Force GT just to enjoy the drive as much as I can. Also I'll use it for Shift 2, and other racing games I have.

If you want a racing game, there are better ones than GT5. I'd recommend Shift over GT5 to someone who just wants a racing game. But if you want to drive cars, and come as close as you can without actually driving one on a console, there is not a better ride on any system (other than PC) than GT5.
---
thehow much Edc+rave+2011
Apple is beyond critique! Omg! :rolleyes:

Its not so much that you criticise apple, hell no company is perfect and they all deserve a little criticism...

...its more how you take the piss out of everyone else's post.

I used to find your posts funny when you were critical but now i cringe whenever i see that you have posted 'cos 9/10 times you will be insulting someone.

Lighten up a little.
---
Filed under: AE86, UK, EDC,
DakotaGuy
Aug 11, 02:43 PM
Hence cdma is and will always be a small local network that can be used in small pockets on this planet.

I would not consider the entire United States to be just a small pocket on the planet.
---
Ok, so this is just a fantasy
Carlson-online
Nov 29, 09:03 AM
Play it over the weekend - My biggest problem is theres nothing ground breaking about it. Kind of "more of the same" but with updated graphics (VERY good graphics mind you). My mate Jason wrote a pretty fair review, although some people REALLY didn't like it. It's a shame people cant write honest and fair reviews these days without people moaning and saying "why didnt it get 10/10 merrrrrr" - See Gran Turismo 5 Review (http://gamestyle.com/reviews/2012/gran-turismo-5/)
---
EDC hits Vegas this June
gnasher729
Jul 28, 06:32 AM
AFAIK, the Merom CPUs have an improved SpeedStep technology, so that
on average the heat generation may infact be lower for Merom.

Do you have any links that describe Merom's SpeedStep compared to Yonah's? I thought Yonah's was quite good, allowing you to reduce both clock speed and voltage simultaneously. It is always a problem with Intel, they say "improved SpeedStep", but they never tell you "improved compared to what".
---
and posting this edc house
Real tablet OS, Full internet, True multitasking - the list's expanding fast :D
Define "Real Tablet OS" considering that Honeycomb is just an extension of Android with some new UI controls. That means that Honeycomb is no "more" of a tablet OS than iOS and Apple stated that iOS started out on a prototype tablet before being shrunk to a phone.
held edc apr pricesedc
oregonmac
Nov 29, 01:11 PM
see http://www.tunecore.com/

Universal is simply increasing the rate of their own demise. And why do they think artists find them necessary?
---
Electric Daisy Carnival EDC
As far as I'm concerned, my interest in WWDC rumor mongering is closed. Now that we're in the final weekend, there's too much potential for bogus, wild info from anonymous but suddenly "in the know" sources that will get a kick out seeing false info entertained in sites like this.

Insofar as all of the present rumors/claims combined, there just isn't enough there to justify the amount of "to be announced" sessions for developers that are on the WWDC event schedule, and it isn't likely they are Intel/Universal Binary-related (that particular cat is obviously already out of the bag), so at this point I have no idea what Leopard will bring. All bets are still off.

And what's this nonsense from Thinksecret?

A release date for Leopard is not expected at WWDC and it appears unlikely that the operating system will ship by the close of based on its current development status, sources say.

Well, they certainly aren't going to give an exact day and time of release, but you don't have to be "in the know" to understand that they are going to give a time frame for it's release (i.e., first quarter 07 or first half 07), as they typically do. Common sense tells you that. What's Jobs supposed to say? "Oh, I don't know. Not sure when we are going to release it. But we'll definitely get around to it one of these days."

My guess is that it won't happen until 07, about the same time frame Tiger was released. Although Apple may finish it's hardware transition for the present generation of machines come Monday, Universal Binaries are still very much in progress. Throwing in major new OS changes, new API's etc., courtesy of Leopard on top of the existing Universal Binary transition efforts isn't likely to sit well with developers if the release date for Leopard is too soon - as in by the end of the year. Risks developers either throttling back on UB support or support for whatever goodies that are new in Leopard. And by the looks of the number of yet to be announced sessions at WWDC, there may quite a number of new goodies.

With Microsoft's Vista constantly trying to steer it's way out of oblivion, in this case time is on Apple's side.
---
headliners, EDC Vegas 2011
LanPhantom
Mar 31, 02:41 PM
How is it biting them in the ass? Android is the fastest growing OS with a larger share than IOS. I think it's been a very succesfull strategy.

It's because of the Buy One Get One option. Nothing more. People choose that option because it makes financial sense and if they don't really care about the OS or the phone, they will choose the one that fits their check books. If Apple was to OK ATT and VZ to do a Buy One Get One on the iPhone, there would be no comparison. It would be game over for Android.

-LanPhantom
---
EDC 2010!
Im waiting til June, if iphone 5 is delayed then i will jump to a nice android smartphone. Many people forget that cellular market has changed a lot and now competition is harder than before, there are nice alternatives, very nice ones.
---
Ravers get up at EDC.
Do we know if all cars have fully modelled interiors or if thats just for the luxury cars?
---
Headliners! Posted by SP3C!
DoogieWoogie
Nov 29, 03:37 PM
I don't usually rate threads negative or positive but this time I'll make an exception - NEGATIVE. This is bad news.
---
The US GSM carriers suck. T-Mobile has great customer service, but their coverage stinks. Cingular has great coverage, but they have BY FAR the worst customer service.

Plus EVDO beats the pants off of EDGE. And Verizon + Sprint + Amp'd + US Cellular + a bunch of other, smaller CDMA carriers account for over 60million potential customers in the US. If they only do a GSM version of the phone, it'll be a big mistake.

EDGE is not meant to compare with EVDO, UTMS is.

Can you imagine them making the phone only for CDMA? That translates to "US only." There will be a GSM version, it will most likely support UTMS, which is as good or better than EVDO.

Even assuming for the sake of argument, which I don't in reality, that CDMA is better than GSM for voice, the annoyance of not being able to swap SIM cards is enough for me to avoid it.

That and the fact I can't use it anywhere outside the US.
---
maclaptop
Apr 11, 04:58 PM
Apple can create Christmas any day of the year.

Only amongst those who's entirely sad life, waits in anticipation.

All the while, most of us have much richer, more well balanced lives.
---
(Lots of Stuff...)

Well I bet that took a while...

Excellent points. Especially liked the Microsoft joke!
Never mind. Perhaps this forum will be ready for another of my spanners soon?

Let's hope Apple engineers don't do anything bodgy.

No word on TDP's of Clovertown and Kentsfield (Thanks mwswami)? Did I see that Kentsfield is two Conroes on the same chip? Would that mean the TDP would be roughly 130??? :eek: :eek: :eek:
Certainly Uncool :cool:

Won't give up hope yet on upgradeable iMac. Quad Cores here I come!

BTW, I feel like such a noob for asking this, but when they say Santa Rosa will be able to support an 800Mhz FSB, is that talking about the RAM speed, up from 667Mhz?
---
Dr. Josiah B. Gould, the Plato scholar who taught me Ancient Philosophy, told us that, that although homosexuality was common among Greek aristocrats in ancient Greece, to them, sodomy was repugnant.Dr Simon Hornblower, the author of several books about ancient Greece and editor of the Oxford Classical Dictionary, a friend of mine, agrees with me that there is no way your teacher could know any such thing, and that homosexuality was not common only among aristocrats. The Greeks, and Romans for that matter, made little distinction between sexes or orifices when it came to getting their rocks off.
---
Haha! Did you see the video for Time Machine on the Apple website?

They're doing a "search for old friends", with the name "Rose" !!

That can't be a coincidence :-)

CK.
---