i love you poems short.
Hey for what its worth, i understand where you're coming from Zadillo BUT some people still find the joke funny and therefore it deserves to be told.

Fair enough, and I won't argue any more about it. I can't think of anything more tedious than a debate about whether a joke is funny or not...:)
---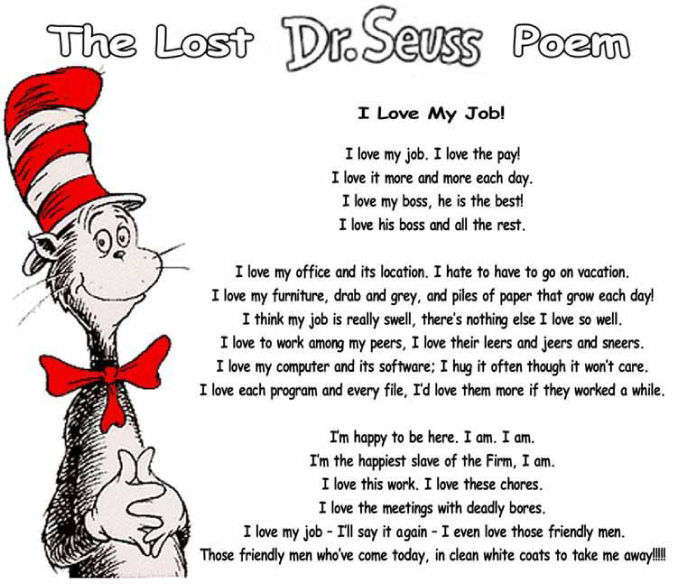 I LOVE YOU FUNNY POEMS
So to post my top bets for WWDC...

1) A much clearer roadmap for 64 bit support in Mac OS X. I believe they will outline full 64 bit support across all non-10.4 deprecated frameworks (I believe in the initial release of 10.5). Of course it will also fully support 32 bit applications run side by side with 64 bit applications.

Check

2) Resolution Independent UI will be ready for main stream use with display products possible with in the next year or two (would love to be surprised with 150-200 DPI or so display of course).

Check. They've had a lot of time to work this one out.

3) Quartz 2D Extreme will be ready for main stream use along with some good news on the OpenGL front.

Check

4) Full roll out of the unified user interface look and fell across all frameworks and Apple applications (at least most).

Check, but I'm not one of the bozo militant unified interface nazis that apply the uno concept without exception across the board. In my mind, an OS should be an OS, not a unique application in and of itself. (Yeah, you Microsoft) The main thing an OS should do as far as the user is concerned should be relatively simple: assist you in finding and organizing your stuff in the easiest, most efficient manner possible. Other than that it should stay out of the way. All apps (regardless of whether they are Apple apps provided with the OS or any others) should honor the basic global UI elements of the OS, i.e., the three buttons at the top left of a window and general menu commands for opening, saving, etc.), but the appearance the application window should be left open to the application's author should it add some sort of benefit in using the application.

In other words, I like how Garageband has the faux studio mixing board wood paneling as part of it's window. It's not a matter of life and death, but it's pleasant and makes Garageband stand out from other apps for what it's intended purpose is. The unified interface nazis may disagree with this approach, but most of the GUI guidelines they cite about this stuff where valid back in the day of the original Mac OS, the original GUI. Times have changed and those guidelines never foresaw today's modern graphic abilities to approach the GUI in new innovative ways such as Expose, or Dashboard, or other uses of 3d as a an effective way of presenting a GUI to the user. So the uno concept is ok provided that it doesn't reverse course and head backward instead of forward.

5) Improved Quartz API to allow for more advanced window styles and effects.

Check, and see above.

6) PowerMac replacement with Quad core model... a true workstation class system (likely similar enclosure to what we have now in the PMG5).

Check. Sure, why not?
---
I Love You Poems Short - Page
Get with the program you guys ...

... start think the way APPLE think :eek:


Apple will NOT release such a HIGH END MACchine without spotlighting a use :eek: :eek:

Such a most excellent MACchine would be released with Bluray and the computing power would be used to burn to ALL THAT SPACE in human as opposed to GEOLOGICAL time spans :eek: :eek: :eek:
---
i love you poems and quotes
Competition is good.

Can we make this a sticky so that we are not compelled to reiterate this basic fact over and over. Yes, competition is good. So is breathing.
---
pics of i love you poems. i
Dr.Gargoyle
Aug 11, 03:40 PM
So how many people in the world do you think have cell phones? Everyone?!?! Just doing a quick Google search, there were about 1.1billion cell users in the world in 2004. So, maybe it's up to 1.5 - 1.75bil now?

Now if there's ~700mil people in the EU with a workforce just under 400mil strong and internet usage is about 300mil. Ya, it would seem reasonable that roughly the same number of people use cell phones. Do you have a better estimate? I'm sure there's a lot of elderly, children, and poor in the 700mil that use cell phones, eh?

What about India, Japan, China? First of all, India and China have median incomes that are FAR less than the US or EU... so I doubt they have a relatively large cellular user base.

And oh, let me check with my cubemate.... yep, CDMA is used in parts of China.
Well, I dont know where to begin... I work in science and you have to trust me when I say that you can't deduct anything from the "facts" you have. You are guessing.
The fact is that GSM has 81% of the world market... and that makes cdma a small market.
---
i love you poems short. cute
See Apple???
Yet another potential customer for iMac Ultra. We Want C2DE + X1900 and a 23" screen!

It has been demonstrated an iMac can take large amounts of heat. I should expect (With almost certainty) that iMac will get at least 2.4 Conroe, which should be quite a significant increase on its own, and possibly higher. 2.4 on the low end 17" model, 2.66 in 20" and the option of 2.93 or 3.2 in iMac Ultra! (Then Apple can gift me with one for coming up with such a great idea)
X1800's for the 17 and 20 inches, and X1900 for the 23".
Sounds good to me.
Extra space due to 23" could be used for the cooling of the twin fires of CPU and GPU.

Except they get pissed off if you give them ideas.
Or was that Nintendo?
Both, probably. Legalities.
---
I love you poems
I'm glad rosetta is going away. Maybe the dev will finally update the app.
By saying that you clearly misunderstand the idea of a legacy app. Say I have an old PPC game that I still enjoy to play. Why on earth would the dev want to update the old game to work in intel, especially if the dev is busy with new and more profitable endeavours?

Windows manages to run legacy apps still. Even if you do have to resort to using the virtual machine they've called 'XP Mode.'

Fortunately, my one and only PPC program does indeed have an intel version that I wasn't aware of, so I'm fine.
---
i love you poems short. FX120
dhollister
Sep 19, 12:49 AM
Does it even MATTER if Apple keeps up? Do we actually WANT Apple to release a new computer every month when Intel bumps up their chips a few megahertz?

See, it's easy to get lost in the specs war. The Mac Pros came out and I was salivating, even though I have a dual 2.0GHz G5 sitting at home. And then one day, as I was editing some HD footage, it occurred ot me that my G5 here - my now outdated G5 - was editing 1080p high-def footage without so much as a flinch. It was SO fast it was not even necessary at all.

So I really have to ask - does Apple really need to get into that stupid-ass PC specs war? Is it really hurting you guys that Apple has been slow to update? Are you really doing tasks that the current computer lineup cannot do?
---
cute short i love you poems
does anyone else thing launchpad is the worst idea yet?
Maybe not the worst, but definitely the most useless.

Spotlight does a so much better job.
---
short i love you poems
Still waiting for game benchmarks...

Ditto. Sometimes a system's true colors don't show until you've benchmarked modern games on it.
---
cute short i love you poems
LordJohnWhorfin
Nov 28, 06:57 PM
If Apple pays Universal to compensate it for their losses due to iPod users being pirates, I will make sure I only procure pirate copies of Universal music and movies, since Universal has already been compensated. No need for them to get paid twice.
---
cute i love you poems
Multimedia
Aug 18, 11:54 PM
So the webpages at Apple.com suggest the improvement of Xeon vs Quad G5 in FCP of 1.3- 1.4 times as fast as the Quad G5.

However, notice that it is footnoted that these results were obtained using a Beta version of FCP:
On The Mac Pro Performance Page (http://www.apple.com/macpro/performance.html) In the first section "Film and Video" footnote under the Bar Charts:
"Testing conducted by Apple in July 2006 using preproduction Mac Pro units and shipping Power Mac G5 Quad units. Mac Pro testing conducted with a beta version of Final Cut Pro."What does this mean for us: new version of FCP required for multiple core utilization?

I just took advanatage of the crossgrade, will it soon need an upgrade as well? I hope it is an update/download not as a version upgrade/purchase.I'm sure it will be a free download update not more money. But I'm not surprised. That's why I'm waiting until December 10 to mail in my Crossgrade form and DVD. I wanted to get all the updates until the offer expires December 20 on the install DVDs I get with my Crossgrade. Thanks for pointing out that detail. :)

I think it's safe to point out that when this MultiCore version of Final Cut Pro is released, that FCP performance will also improve on the Quad. The same will also likely be true when Leopard ships.
---
I Love You Poems Short - Page
starflyer
Mar 22, 02:23 PM
not enough RAM

Not enough RAM to do what exactly?
---
A life partner in you I have
Gruber is rarely accurate in his conclusions, and this time is no exception.

None of what is happening smacks of being a "bait-and-switch" as he claims. That would've required extremely clever pre-planning years ago on the part of Google.

Instead, it's got all the hallmarks of too little pre-planning.

Anyone with experience dealing with large projects can see that Rubin has belatedly come to realize that things were getting out of control. Now he is goofing up trying to take full control himself instead of doing the smart thing and first getting a consensus from the OHA members.

I don't think it's about planning. After all, how much "planning" do you need to do if your philosophy behind the product is basically " open it up so everyone can contribute and see where it goes"? The point most here are making is that the age-old "open" vs. "closed" ecosystem argument, which has repeatedly been used to criticize Apple over many years, is now looking more and more as if Apple was right all along. In this case what you call "lack of planning," I call lack of much thought at all. I for one don't have much faith in most things accomplished by committee, and that is the basic flaw in most "open" systems.

The "bait and switch" reference applies in that many of those who jumped on the Android bandwagon now find they don't have nearly as much control as they thought they would, as evidenced by the complaints from that community.
---
love you poems. love poems and
Being gay is not a sin, homosexual actions are a sin.


If that's what you want to believe, fine. Respect my belief that it's perfectly fine, and stop making laws against me.
---
short i love you poems
For what it's worth, Alienware's top-of-the-line ALX series desktops (actually, all of their desktops, I believe) have the power supply at the top, too. I know some will scoff but they are lauded for their gaming performance and they brag about their cooling technology.

-Squire

well, that looks a real mess.. but I suppose it's a good idea since heated air tends to rise.. :-)
---
cute short i love you poems
WildCowboy
Aug 17, 01:01 AM
This is a very dumb question but is Photoshop running under rosetta in this test?

If Photoshop is that is nuts.

Yes...Photoshop can only run under Rosetta on the Intel machines...there's no universal version of it.
---
short+i+love+you+poems
EagerDragon
Aug 25, 06:38 PM
When I read a lot of posts where people complain about Apple service, it seems that it is offten from non-US. Is this my imagination or does Apple need to kick the Arse of their international support groups?
:D
---
Storiesquotes,love poems
Since apple is part of the Blu Ray consortium wouldn't you think they will use blu ray only?
---
I keep reading stuff like this. I don't think Time Machine works with the reagular harddrive. You have to use it with an external drive.
thats a kinda harsh requirement, i would think it will allow you to choose local/external hard drive/network server.
Buts till, it will cost lot of space, no matter where the space is from.
---
Why sell a new keyboard for front row, if you can sell a new Mac to the same person? Including the sensor in the Cinema Displays would enable Apple to sell more of their display, on which they probably have a very good profit margin (when you compare to other manufacturers).

They could also just put it into the tower. Even if that is under the desk, it might not be that much of a problem. In my experience the sensor responds very nicely to the remote even if the line of sight between them is somewhat obstructed.

However the best solution I think, was suggested by someone on these forums. I don't know, whether it has been quoted here already, because I did not go through all the messages. This poster suggested to combine the sensor with an external iSight. That could be connected to any monitor and would probably have a good IR reception because of beeing on top of the monitor and thus very exposed.

Apple would make the IR and iSight work on XP-first under Boot Camp and on PC's
---
The SuperMeet stage show aka FCP (or if **** hits the fan then iMovie Pro) preview begins at 7 pm.

7pm Vegas Time? If so, for others scheduling your availability like me :cool::

Pacific Time: 7:00pm
Mountain Time: 8:00pm
Central Time: 9:00pm
Eastern Time: 10:00pm
---
Yes, and RIM has a history of making excellent touch screen devices.





:rolleyes:

And what bearing does that have on this? Yep, zip.
---
I'm not a birther. But I would love to know why the certificate looks new when the president is nearly 50. Now I'm about five months older than he, my original birth certificate has faded. The certificate he produced clearly isn't the original. Or if it is the original, it's astoundingly well-preserved.


You obviously are posting without knowing anything about what a long form BC is. The short form is what the parents get and what you get when you ask the state for a copy. The long form is what is kept on file by the state. In other words, since it is handled very infrequently, it's probably going to look pristine.

If you don't like the guy, then say so, but it seems to me that to you, ignorance is more important than knowledge.
---