easter-eggs.jpg
Hellhammer
Apr 10, 02:05 AM
I'd wait for Haswell or maybe even Rockwell which will be the 16nm shrink of Haswell.

Rockwell doesn't exist anymore, it's Broadwell now ;) After that it will be Sky Lake (16nm) and Skymont (11nm).
---
Beautiful Easter Eggs
Many users have pointed to extended ship dates and delays for MacBooks as evidence of an impending update. While possible, the shipping delays may simply be due to a demand backlog which was noted (http://www.appleinsider.com/article.php?id=1896) in Apple's Q3 2006 conference call in July. At the time Apple stated they expected to reach a supply/demand balance by the end of September (the end of Apple's current fiscal quarter).

I hope they are wrong... I doubt that the same chip will be used in both Macbook and Macbook pro's. If they have been building up supply since the release, I would think they would have enough by now.
---
Easter Eggs from the world
Dalton63841
Apr 27, 09:46 AM
Barack Husein Obama was born in Kenya! Now we have proof!!! Look, it says it right there!! :rolleyes:

Im really hoping the odd smiley means you are joking, and not that you just don't know how to read a birth certificate.

EDIT: LOL I get it...His father has the same name.
---
easter eggs clip art
fastlane1588
Jul 27, 11:52 PM
so everyone keeps saying wwdc for all of the hardware releases....well seeing as how apple enjoys releasing stuff on tuesdays there happens to be a tuesday before wwdc. what if they just either quitely released everything or anounced everything that tuesday. that way they arent slow about releasing, and everyone will be set for when they talk about leopard and all the cool apps that they can run on their new machines,

this way they can also keep the focus of wwdc on the software instead of trying to squeeze new releases and software demos and all into one event......just a thought
---
little easter eggs clipart.
Some of this makes sense, some of it not.

I think AppleInsider is right about the case. With the exception of the MacBook, whose design has been rumoured for years and clearly was something Apple would have done even had this been the "iBook G5", Apple has made it a point with all of their Intelizations to use the same case as the predecessor, as if to say "It's business as usual, all we've changed is the processor." So from that point of view, the PowerMac G5 case being, more or less, the Mac Pro case, makes a lot of sense.

Two optical drives? No, sorry, not seeing the reasoning. The reasons given so far don't add up:

- copying DVDs - you can't legally copy 99% of DVDs anyway, if there was no need for twin CD drives, why would there suddenly be for DVDs?
- burning two at once - few people need this, and it's a great sales opportunity for a Firewire external burner anyway. Hell, why stop at TWO?
- Blu-ray - not unless they're really screwed up BR and drives with BR will be incompatible with existing media or something.

Against this, you have the confusion generated by a Mac with two optical drives. I have a Mac with two optical drives (an in-built combo drive, and a FW DVD burner), and it's not terribly elegant. It's fine when reading disks (obviously), but writing them generates some confusion. How sure am I that I'm burning to the right drive? I'm not saying you can't do it, I'm just saying this would be unbelievably un-Mac like. It'd be like the next version of iTunes coming with a menu at the top of its window.

It's also kind of easy to see where this rumour might have originated, in some garbled communication where the rumourmonger says "Two optical drive formats", or "Two bays", or "Multiple media readers" (hey, why not put an SD/CF/MS reader on the front? Pretty much everyone uses them these days, especially the prosumer-market Apple is after. Bet there are more people who'd use an SD card reader than a Firewire port.)

I've been wrong before, but I'm going to go for a traditional PowerMac G5 enclosure, and a single optical drive which may, or may not, support Blu-ray in some shape or form.
---
Easter Eggs Colorful Picture
I see where you're coming from.

So does this mean there will be no Powerbook G5s next tuesday?

...yeah no PowerBook G5 next tuesday?...say it aint so, say it aint so.
---
Easter eggs
Blue Velvet
Mar 23, 11:29 AM
I certainly realize that the circumstances are different, but the fact remains, we launched missiles at another country.


You've been doing it since the 1940s without congressional approval. Why so concerned about it now? Why this particular president? Were you personally concerned when it was done in Bosnia or Iraq? Do you realise that missiles have been launched into Pakistan from drones for many years, yet no declaration of war on Pakistan...

Or are you just parroting the latest conservative reason to oppose Obama's actions? Obama: whatever he's for, I'm against. Is that it?
---
coloring pages easter eggs
Dunepilot
Aug 21, 09:51 AM
- 3D Artists
- Coders
- Graphic Designers
- IT
- Multimedia Artists
- Musicians
- Photographers
- Video Editors

Who can fully utilize 4 cores right now? I'd say possibly 3D Artists, Musicians(quad G5 only), and IT.

There's been controversy on Apple's forums over the last few days about the fact that Apple has optimised Logic for quad-core Intel but has never properly utilised the quad G5. Owners of quad G5s have been up in arms about this, as it is being suggested this is a deliberate crippling to avoid admitting that the quad G5 is potentially faster for musicians (reverbs etc have historically been heavily optimised for velocity engine). Apple has removed the threads on the topic, which either points to a smokescreen, or to the fact that they may have software engineers working on rectifying it.

Whatever the case, this is not the way to please your professional customers.
---
Easter Eggcitement
i just wish Monday would just get here already......
---
Easter Eggs
Charlie Sheen
Mar 26, 04:48 AM
Can't wait. Hope it's awesome
---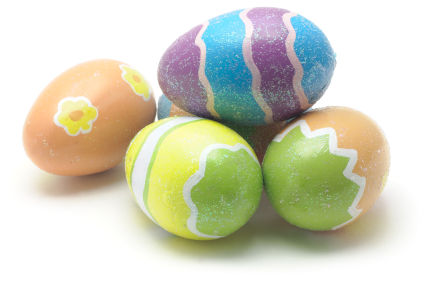 Flair to Your Easter Eggs
epitaphic
Aug 18, 09:12 PM
If you don't think you are going to ever use more than one thing at a time, then you are right. But I think most of us here have 10-15 things open at once and do all sorts of things at once. That's the reason for "Spaces" in Loepard.
We all probably have 15+ apps running at any time, but its very rare to have more than two hammering the CPU (unless its "automated" like with handbrake/toast). That is of course, unless you find yourself editing video whilst designing a website whilst laying out a book whilst writing some music whilst watching superman at the same time. ;)
---
12 Easter Eggs in EPS format
mcgillmaine
Jun 22, 10:32 AM
I just got off the phone with a radio shack in the area I live in (Raleigh-Durham, NC). The guy (Alex) seemed to be well informed on what's going to happen in the next few days. This is a sum of what was told to me.

Our area sent out 251 pin request (or something like that). And only got back 96. Which leaves each store at about 3-5 phones. So he went on and talked about the "pre order" list that didn't really mean you would have one on the 24h and said it's about a 1-50 chance most people will get there phone on Thursday. Not good news for me. I hope this can help!!
---
Easter Eggs Coloring Pages
iPhone: 4% of market, 50% of profit
http://tech.fortune.cnn.com/2010/10/30/iphone-4-of-market-50-of-profit/

So whats the point of market share if you're not making any money?

Well you can see that with the Mac. About 3% worldwide marketshare but Apple makes tons of money with it.

And eveybody crys tears here when some 5 year old Windows games finally get ported to MacOS. You want that to happen with the iPhone and iOS compared to Android? Fine. But I'm sure 99% of iPhone buyers don't want that scenario.
---
652-colored-easter-eggs.jpg
...

...

...

...

...

...
Fascinating as this insight into a mediaeval mind is, please do remember to use the multi-quote.
http://images.macrumors.com/vb/images/buttons/multiquote_off.gif
---
Trace the Easter eggs that the
Is having more cores more energy efficient than having one big fat ass 24Ghz processor? Maybe thats a factor in the increasing core count.

I think you're a bit confused, 8x 3GHz cores doesn't equal 1x 24GHz processor.
---
Hen Laying Easter Eggs
Trump is the ultimate troll. Worst of all, he's just getting tons of free publicity every time the subject is brought up.
---
easter eggs pictures.
i am looking forward to this game, no matter if it's got standard and premium cars.

yeh im over the bitching - just make the physics right and ill play it in 8 bit colour!
---
181-easter-eggs.jpg
Are you suggesting that Obama has gotten comparable treatment from the media as compared to Bush? The double standard is hilariously transparent... Obama justified, Bush not. Obama builds strong coalition, Bush doesn't. Obama trying to save people, Bush going after the oil. Obama savior, Bush satan.

The hypocrisy coming from the left in the media on this issue is palpable... all the talk about Obama's great coalition and how its a justifiable war.

Wait a second. Wait a second. You are trying to compare the media's portrayal of GWB over about SEVEN years, TWO wars, and HOW MANY lies to Libya and less then ONE WEEK. The Lybia thing has been going on for about a day or so. In the FIRST days of the Afghanistan war, did you hear ANY mainstream media criticizing GWB? In the FIRST days of the Iraq war, did you hear ANY mainstream media criticizing GWB? Democrats were falling all over themselves to support the President and the need to get those WMDs, which is why after almost 6 years, it was a defining issue of the presidential campaign. The candidates 5 years later were all explaining why they supported one war then, but not now after all the lies were exposed, or how they were against it all along. Not to mention Afghanistan after 7 years. There were a few, unlike now, where there are a lot.

This is THE FIRST WEEK of this thing, and NBC nightly news had their entire story about: criticism from congress; inability of white house to deal with that problem, partly because in Brazil; late involvement; involvement here but not in Somalia, Congo, etc..., risk that Ghaddafi would survive this and remain in power; lack of real Arab support and weak coalition; and fact that opposition is disorganized, poorly armed and leaderless, and probably won't be able to win without military support on the ground.

That's pretty hard reporting, and I'm very happy Congress is being critical. Almost everything Fivepoint, the GOP and the Democrats who are speaking out have said is a valid concern. They should have done this during week ONE of Afghanistan, and Iraq. I know I don't want another one of those.

(edit) Yesterday, NPR was talking about Candidate Obama vs. President Obama, and pointed out Candidate Obama's statements about ONLY CONGRESS CAN DECLARE WAR. They discussed, at length, prior presidents assumption of power, Obama's use of it and how guest couldn't imagine a new president opposed to a power like this giving it up. So, maybe you should watch some NBC, ABC, CBS and listen to some NPR. Mind you, in FPs defense, I spent 16 hours in the car since this all started, so I've probably heard every story...

If you actually want change, vote for Ron Paul, vote for fiscal responsibility, vote for small government and non intervention. Vote for the destruction bailouts, stimulus, subsidies, and all other forms of crony-capitalism. I can't imagine him being nominated to run for president by the GOP. Did you see that "ghostwritten" pamphlet put out by his campaign? I'm sure he never approved of it, but against the 1st black president? With a son who tripped all over the Civil Rights Act? I hope he mounts a third party campaign. With Palin as VP, or better yet, Palin as a fourth party candidate.

Oh yeah... and here's a fun little nugget for those who like to tout Obama's coalition: I know, I don't get it either. But, again this is the first week. The only ones "touting" are the white house, and it's already falling on deaf ears and criticism. Already!
---
For 3D Floating Easter Eggs
. Wow, completely clicked on the wrong tab.....
---
you take everything east of kansas and i will take the western region of the usa

when we have enough money, i can go raid asia and australia/new zealand for old G5s and you can go after europe and the middle east

when we are done we will be rich and could sit on the same oil board as bin laden, dick cheney, and several of the bush family members

and based on who is taller, one of us could be dr. evil and the other one will be mini me

sound good?



damn and i wanted asia... ahh but europe wont be too bad. damn it i am 5'7 so i might end up with the short end of the stick.
---
shelterpaw
Aug 11, 11:14 AM
What I gather would really make the iPhone something special:
REDolution
Apr 12, 12:49 PM
This was a very good blog post.

I agree, great read
---
DeathChill
Mar 23, 07:35 AM
a lot of the iphone engineers are former palm employees

Palm was founded by Apple employees who worked on the Newton.
---
BlondeBuddhist
Jun 10, 06:09 PM
Gazelle (http://www.gazelle.com/) buys old iPhones too. :)