easter bunny cake decorating
Macky-Mac
Mar 22, 08:32 PM
......It may have just been luck, but if so it was a remarkable piece of luck to have 4 submarines, a flagship-capable surface ship and all necessary support in the right place at the right time. These things don't travel very fast.

in the mediterranean? The US 6th fleet is permanently stationed in the mediterranean, so yes, these ships were probably all quite readily available.


6th Fleet (http://www.navysite.de/navy/fleet.htm)

Sixth Fleet, headquarterd on its command ship USS MOUNT WHITNEY (LCC 20), consists of approximately 40 ships, 175 aircraft and 21,000 people. The Sixth Fleet in the Mediterranean is the major operational component of Naval Forces Europe. The principal striking power of the Sixth Fleet resides in its aircraft carriers and the modern jet aircraft, its submarines, and its reinforced battalion of US Marines on board amphibious ships deployed in the Mediterranean.

and they've had several weeks to move them around
---
Easter bunny cake
georgethomas
Apr 7, 09:54 AM
haha u cant stop technology from growing. ;)
---
Easter Bunny Mini Cake
Roessnakhan
Mar 22, 12:51 PM
All formidable looking tablets, it is indeed the year of the tablet, and glad they're becoming price competitive too.
---
Easter Bunny Cake Video
Multimedia
Jul 28, 05:07 PM
Okay, I did some tinkering myself, just for kicks, and here's what I came up with. I thought that we were talking about a computer that was somewhere between a Mac Mini and a Mac Pro (Power Mac), so I thought, maybe the style should be a combination of the two. Let me know what you think.

It's not a Mac Plus... It's a Mac++!

http://www.ghwphoto.com/Mac++1.PNGhttp://www.ghwphoto.com/Mac++2.PNGThat looks stunningly beautiful. wish there were 3 or 4 card slots though.
---
Easter Bunny Cake Pops
A real mess? That's one fine looking machine. IMO
well, that looks a real mess.. but I suppose it's a good idea since heated air tends to rise.. :-)
---
Easter Bunny Mini Cake
I think they'll go UDI instead of HDMI (and save fees). The really interesting question here though is HDCP and what means for all existing hardware including cinema displays...

HDMI is very common-as many brands have it now. Some PC's also use it. UDI is better-but not a lot of devices may have until 2007.
---
Easter Bunny Cupcakes
Oh, and this is a more minor gripe, btu they need to pull their heads out of their asses and fix their volume licensing program, it's rubbish.
---
easter bunny cake pictures.
Evangelion
Sep 13, 01:10 PM
The OS takes advantage of the extra 4 cores already therefore its ahead of the technology curve, correct? Gee, no innovation here...please move along folks. :rolleyes:

Uh, last time I checked, Windows can take advantage of multiple cores just fine. Do you think that multithreading is some Black Magic that only MacOS can do? Hell, standard Linux from kernel.org can use 512 cores as we speak!

Related to this: Maybe not 512-way SMP, but here (http://www.linux-mips.org/wiki/IP27_boot_messages) is what it looks like when Linux boots on 128-way SGI Origin supercomputer. Note, the kernel that is booting is 2.4.1, which was released in early 2001. Things have progressed A LOT since those day.

OS X works with quad core == "Ahead of technology curve"... puhleeze!

As for using a Dell, sure they could've used that. Would Windows use the extra 4 cores? Highly doubtful. Microsoft has sketchy 64 bit support let alone dual core support

Windows works just fine with dual-core. It really does. To Wndows, dual-core is more or less similar to typical SMP, and Windows has supported SMP since Windows NT!

I'm not saying "impossible" but I haven't read jack squat about any version of Windows working well with quad cores.

Any reason why it wouldn't work? And did you even read the Anandtech-article? They conducted their benchmarks in Windows XP! So it obviously DID work with four cores! And it DID show substantial improvement in performance in real-life apps! Sheesh! Dial tone that fanboysihness a bit, dude.
---
chocolate Easter bunnies.
Dr Kevorkian94
Apr 11, 02:25 PM
it better be a hell of a upgrade if they wait that long, because if not it will be unacceptable.
---
coconut easter bunny cake.
Blue Velvet
Mar 22, 11:40 PM
Right, because there can't be any other reason why Blue Velvet, or myself, might support military intervention in Libya, but not Iraq. They are exactly the same situation after all.


Although I backed the implementation of a no-fly zone a few weeks ago, I wouldn't describe my position as one of wholehearted support. More a queasy half-hearted recognition that something had to be done and that all alternatives lead to rabbit holes of some degree or another. When all is said and done, my usual fallback position is an intense weariness at the evil that men do.

For the record, I actually supported (if silence is considered consent) both Gulf wars at the start; I believed in the fictional WMD, I believed it when Colin Powell held his little vial up at the UN... but I, like many was tied down with work and other concerns and was only paying cursory attention to the news at the time. Like Obama, I also initially supported the war in Afghanistan, or at least the idea of it, initiated by a Republican president, but since then it seems to have become a fiasco of Catch-22 proportions.

Slowly discovering the real agenda and true ineptness of the Bush administration was a pivotal point in my reawakening political understanding of US current affairs after reading Hunter Thompson for so many years. Disgusted and appalled at the casual way in which we all were lied to, I'm quite happy to hold my hands up and say 'I was wrong'.

Thing is about Obama, I never had any starry-eyed notion about him being a peace-maker. He's an American president, the incentives are cemented into the role as one of using power and protecting wealth. Not that many conservatives were paying attention at the time, but he stood up in front of the Nobel academy when accepting his Nobel Peace Prize and laid out a justification for war.

Since the second Gulf War, the entire circus has been one of my occasional interests, because I've never seen a political process elsewhere riddled with so many bald-faced liars, grotesque characters and half-baked casual hate speech. What power or the sniff of it does to people, twisting them out of shape, is infinitely more interesting and has more impact on us than any other endeavour, except for possibly the parallel development of technology.

George W. Bush is responsible for another calamity: me posting in PRSI, one of my many occasional weaknesses.
---
Easter Bunny Cake
kiwi-in-uk
Aug 7, 06:51 PM
... as of present the trash can will not allow you to selectively undelete a file?



What?
---
EASTER BUNNY CAKE
itsmemuffins
Mar 22, 08:15 PM
'nuff said (http://www.engadget.com/2011/03/22/samsung-galaxy-tab-8-9-and-new-galaxy-tab-10-1-thinner-than-the/).

nuff said what?

Did you miss the bit where they say the software walkthrough is on the older device?
---
Easter Bunny Cake 2011
Lord Blackadder
Mar 22, 08:11 PM
Probably, but it was certainly orchestrated to look anything but. Sarkozy was very obliging in shooting his mouth off, as was Cameron. It may have just been luck, but if so it was a remarkable piece of luck to have 4 submarines, a flagship-capable surface ship and all necessary support in the right place at the right time. These things don't travel very fast.

I agree, it is quite possible. However, the US didn't orchestrate the uprising itself, if anyone is responsible it's the heavy-handed Gadaffi and the Egyptians with their successful revolt.

As for the presence of the naval squadron, the other middle Eastern revolts and the Somali piracy task force meant that we already had units in the area or en-route. It may very well be a case of forward planning rather than a stage-managed "coincidence". Still, we certainly can't know which is the truth.
---
Moment: Easter Bunny Cake
Most people run more than one app at once.

Most are multi-threaded though and if I am not incorrect it doesn't matter for Photoshop if there are two or 72 cores...;)
---
Easter Bunny Cake
KnightWRX
Apr 20, 01:39 PM
The trade dress claims do not list specific models.

Which tells me somebody botched it. Does it impact damage claims if Samsung decides to present one model that doesn't bear any ressemblance to the iPhone like the ones depicted above ?

Or can Apple amend to add specifity to the claim ?

Or is it moot in the eyes of the court and would only apply when calculating damages if a decision is done in favor of Apple ?
---
Easter Bunny Cake
Not that I wouldn't mind more processing power :D ...

but to me it doesn't make much sense for the majority of tasks/applications.

There might be rare exceptions in the professinal area and of course it makes lots of sense for a server, but for a single user machine?

Whatever, bring them on... in this case I like to be proven wrong.
---
Come Easter Sunday, a cake
notabadname
Apr 8, 07:28 AM
Isn't apple as equally guilty of this exact accusation against BB? Holding stock back until the next day; or is the difference that they sell everything they have available from the previous day.

Apple isn't holding stock, they are inventorying it the evening they receive it in the drop-shipment. They sell it all in the morning before the store even opens for normal business hours the next day. (At least that is how they have done it every time in Cincinnati)
---
Easter Bunny Cake
DaveTheGrey
Aug 17, 03:55 AM
did you say, "die power pc, die"?
no that's german for:

(sideshow bob)The Power PC...The!!!(/sideshow bob)

the jury: "no one who speaks german can be an evil man" rofl
---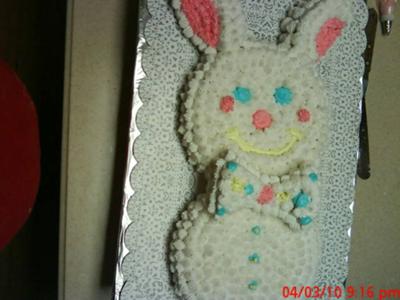 My Easter Bunny Cake
At some point your going to have deminished returns. Sure multimedia apps can take advantage of a few more cores, but I dont see Mail running faster on 4 cores, nevermind 2!

How fast do you want mail to go? The main reasons you need good processors is not for browsing, e-mail, text, and such and such. I highly doubt someone who does all these things on a five year old computer will be much slower than someone on a 16 GB RAM top of the line Powermac



Why don't they just call it: Big Mac.

I think that's the best name I've heard in this thread (sorry, Chundles)
---
epitaphic
Sep 13, 12:47 PM
Anyone seen this?

http://images.dailytech.com/nimage/1775_large_longtermroadmap.png

The real architecture changes are coming June then June then June 2012. With derivatives in the years between.

So Merom(Merom Santa Rosa)/Conroe/Woodcrest(Clovertown) are the end of the road of separate chips. No more mobile/desktop/sever chip... all are the same (should expect mobiles to have the lowest MHz, then desktop, then toping out with server)

And what's interesting is that each architecture change will be a leap in performance similar to Pentium D to Conroe transition. (source) (http://www.dailytech.com/article.aspx?newsid=2649)

Screw Tigerton, Penryn's next (probably June 2007)
---
pavetheforest
Sep 15, 09:44 PM
Dude I'm going to sell my dell.
---
You're right that there is "no reason to rush" except it would be awfully fun to beat Vista to market AGAIN.

David :cool:

Apple, in a very real sense, will beat Vista as of Monday. Microsoft execs have already gone on record recently saying that the rescheduled schedule for the revised schedule for scheduling the release of Vista now has a 20% chance of slipping. Apple, on the other hand, has earned a reputation for shipping it's OS and what it shows/promises. So what will be seen at WWDC will be as good as gold insofar as it's perception as a legitimate answer to Vista.

Microsoft is really out of time. It has to freeze it's code for Vista and debug if it stands any chance of hitting an 07 release and maintain what's left of Microsoft's credibility - which means whatever it looks like now, that's it. So there won't be any further surprises from Microsoft, just release date suspense. From a competitive, strategic point of view, it just doesn't get any better than this for Apple.
---
They're suing...doesn't mean it'll go to court. They may find there's not enough grounds for suit, and deny...
---
agreed completely.

Sorry, but the only valid gripe with SB is the IGP. CPU wise its going to be a great refresh*



*that said, Im one of those weird folks who DO care about the GPU still:(
---